Roosevelt Senior High School Minneapolis, Minnesota

What's New?
If you find yourself in the Bemidji area this Friday, May 17, check out Brigid's Pub (317 Beltrami Ave NW). Classmate Lance Heddan will be part of the evening's entertainment ~ playing music from 8-11.
The cover of the spring issue of the Roosevelt Newsletter. If you do not receive the newsletter, you can subscribe by contacting Christol.Kjome@mpls.k12.mn.us or Christol Kjome at 612-668-4839.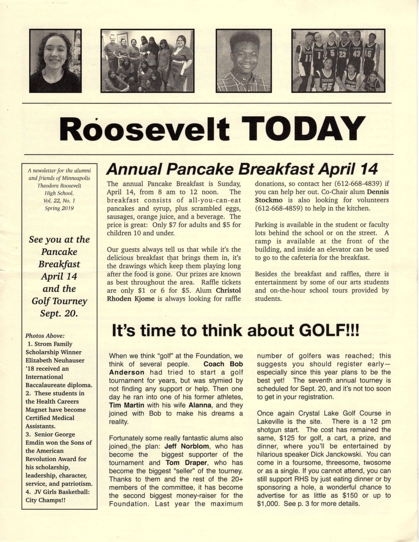 Your generous contribution is very much appreciated...
Susan Landin $100
Steven & Kathryn Belor $100
Steven Hollinbeck $200 (In Memory of Rick Bakke)
Dale Wagnild $200 (In Memory of Rick Bakke)
Doug Martin $200 (In Memory of Rick Bakke)
Bill Urseth $200 (In Memory of Rick Bakke)
Anonymous $200 (In Memory of Rick Bakke)
Cathy Nelson (Scholtes) $50
David Hawkinson $100
Cathy Danicich (Timmers) $100
Sharon Wangley (Goodman) $100
Vicki Larsen (Anderson) $100 (In Memory of Kathy Chase)
Sheryl Kolsum (Turner) $120
Candace Moen (Carlson) $120
Dawn Lamberger (Downing) $60
George Jackson $60
Steve Price (Signs for the Reunion)
Tom Taff (Balloons for the Reunion)
Anonymous $50
Anonymous $50 (In Memory of Linda Linder (Waller)
Anonymous $500
Anonymous $100 (2)
Anonymous $40 (3)
Anonymous $40 (for piano player at Reunion)
Would you like to make a donation? http://www.rhs1967.com/class_custom.cfm?page_id=760567