Roosevelt Senior High School Minneapolis, Minnesota

Attention Classmates!
The Happy Hour at Buster's on Friday, September 8th, has reached the maximum capacity of 80 attendees and we are unable to accept any further reservations. The Tour of RHS is still open for reservations. More information about the Tour is listed below with the Reunion information.
What's New?
Now you can see a list of classmates registered to attend the reunion! Click on "Who is attending the reunion?" along the left side menu. You can also see this information when you click on Classmate Profiles. The list will be updated frequently, so check back often!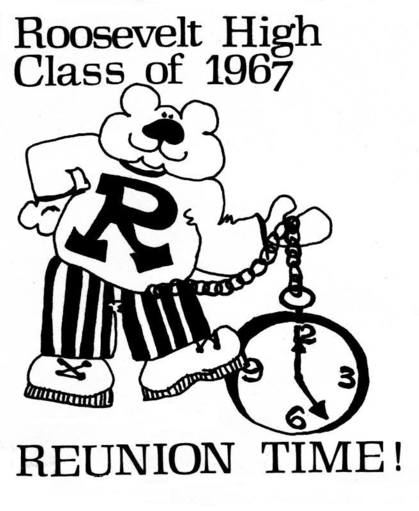 Greetings Class of 67!
It's hard to believe that our 50th reunion is not far away, so please put the dates of September 8 and 9, 2017 on your calendar and spread the word!
Friday September 8: Tour of RHS. Meet in the auditorium at 3:20 pm. Do not arrive early as school gets out at 3:00 pm. Park on 28th Avenue.
Saturday September 9: Gathering at Hyatt Regency Bloomington conveniently located near MSP Airport, MOA and light rail

(Blue Line).


3200 East 81st Street
Bloomington, MN 55425
952-922-1234
Room rates will be $129 (for both Friday and Saturday nights)...ask for the Roosevelt Reunion rate.
Be sure to hold these dates, and all details will be communicated in an early June mailing.
If you have moved, changed addresses or phone number please adv

ise
Nancy Lande Dow at nldowser@gmail.com
.
Notice regarding hotel reservations: If you have experienced any difficulty when trying to book a hotel room, please contact the hotel and try again. Additional rooms have been added to the block of rooms available for Friday, Saturday, and Sunday (September 8 - 10) for the Roosevelt Reunion.
The following user-friendly link will take you directly to Roosevelt Reunion at the hotel where you can book your room online.
https://aws.passkey.com/e/15453892

Your generous contribution is very much appreciated...
Susan Landin $100.00
Steven & Kathryn Belor $100.00
Anonymous $100.00
Steve Hollinbeck $200.00
Dale Wagnild $200.00
Cathy Nelson (Scholtes) $ 50.00
Anonymous $500.00
Anonymous $ 40.00
Anonymous $ 40.00 (for piano player during Happy Hour at Buster's)
Want to make a donation? http://www.rhs1967.com/class_custom.cfm?page_id=76056